Marie Kondo prefers folding over hanging clothing, but we've all got things we need to hang or that just won't fold properly. She does have methods for hanging in closets, but the other research I did regarding organization were more suited for my needs.
I also managed to transform one entire section of my closet into a shoe rack. A closet for shoes. Just. Shoes.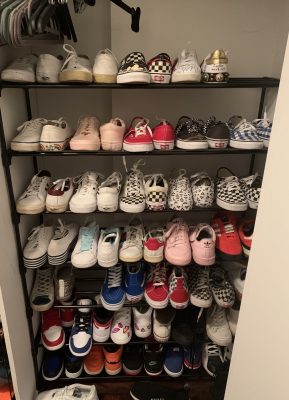 I started by removing everything I had in my closet. EVERYTHING.
The "BEFORE" picture would've shown you two sets of hanging shelves I got on Amazon- one set holding my sweats, hoodies, and PJs and the other holding a ton of pants, jumpsuits, and overalls.
Back to the point-
After I took everything out, I made piles by category on the floor: coats, blazers, sweats, etc. Then, I separated those piles further by organizing them into clothes that HAD to be hung and clothes that didn't.
Fabulous.
I ordered some grid shelving from Amazon that I had read about, and proceeded to put that together based on my needs and the height of my closet. I made two columns- one had two cubes and the other had three. Once I was sure that the grid cubes were secured, I set them aside to focus on the space left for hanging.
I took all my longer pieces of outerwear, my longer cardigans and some lengthier blouses/tops, and hung them in order of thickness (heavier jackets to lighter cardigans), then took my shorter jackets (the denim and leather type) and hung those over the cubes, since the space was a bit tighter. I organized those by style, then color. I know, over-achiever, right?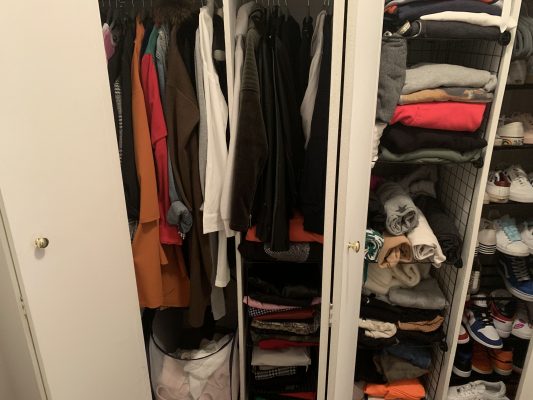 After everything was all good and hung up, I moved onto the shelves and the pieces I could fold.
I read online that I could make more room for sweats by rolling them, so I gave it a shot and ended up liking the aesthetic of the rolled sweats in the cubes, so I did that for all of them and surprisingly had much more room.
Then, I folded my hoodies as I normally would. I had to work with what I had- and I had quite a number of hoodies that I just couldn't part with- so some hoodies made their way to the side of the cube.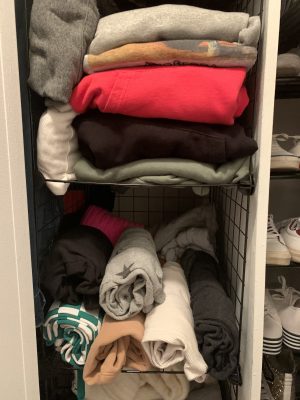 I moved a ton of my less used pieces (bathing suits, halloween costumes, scarves, etc.) into storage cubes that I got from Amazon. This allowed me to open space up in areas I could reach more easily, while utilizing the hard to reach space on top of my closet.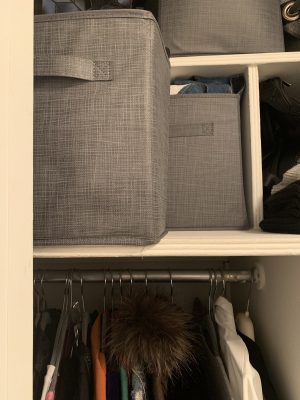 I got lucky, since the shelves above my closet were the perfect height for these cubes. It made the storage aesthetics much more pleasing and frankly helped move things I didn't necessarily need to organize just that second.
PRODUCTS & SITES USED: