When we first started hearing about Covid-19, the questions within our BARAMI family were really geared around one main topic: "what are we going to do now?"
With fear growing amongst the people in NYC, we knew that our business would take a hit. We knew we couldn't expect anyone to spend their hard earned money on shopping or anyone to feel comfortable walking into retail shops and trying on clothing. Bahram, CEO of BARAMI and our father, always explained, "we were in the business of 'want,' not in the business of 'need.'" Before the stay at home order was put into effect and non-essential workers were mandated to stay home, we made a quick decision to close our office and our stores, to ensure the safety and health of our beloved team.
"What are we going to do now?"
The core of our business revolves around being active in the fashion and work scene. Just like many others, we weren't familiar with the idea of "working from home (WFH)" and we had to learn a new way of life. Keeping the mindset of "staying afloat" at the forefront of our minds, our team and our family got to work, while literally trying to work.
After doing a little research and trying to figure out how to make the most of my time and my resources, I learned some "life hacks" to optimize working from home. I've gathered all that information and put it all together for others who may have had the same struggles as we did while transitioning into the "new normal."
With that being said, in order to work from home, you have to designate your 'workspace' before you start working. I read about the best spots to work from in your home and found that most articles and suggestions pointed towards places in your home that were near windows. Windows allow in natural light and fresh air that will keep you in touch with the outdoors and the sunlight would be an instant pick me up throughout your day.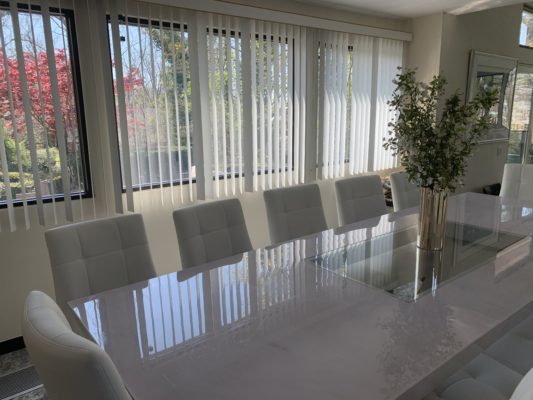 I picked the dining room table to be my new desk; there's loads of natural sunlight coming in and a sliding door that we've been keeping cracked for some fresh air. I've been quarantining at my parents house in the suburbs, so my mother was super excited about us being at home together, but anxious, as any Persian mother would be, about us taking over her home with our work. I promised I wouldn't disrupt her daily routine, if she promised to respect my work routine, since my research also explained that being able to separate your 'home life' and your 'work life' also played a major role in successfully working from home.
Read on to find out more about the tools I used and how I made the most of working from home in the next post!
SITES: